Why should you work with Ritter Knight? Glad you asked.
The digital marketing tactics necessary today include:
Digital Advertising Search Marketing (SEO)
Content Marketing
Social Media Marketing
Community Management
Copywriting
E-Mail Marketing
... and many more.
As you can imagine, it can be difficult to find one or two people proficient in all disciplines let alone half.
So... what are your options?
The Big Agency
It used to be that to get quality work completed you'd hire the local marketing agency. While they do awesome work, they also typically work on large clients accounts with multi-million dollar a year marketing budgets. *Sad Trombone*
And to make matters worse, many of them are still stuck in the "old" agency model of buying traditional advertising and taking a cut of the client spend. Combine that with having to pay a hundred salaries per month and you can see that many of your ad dollars aren't necessarily going to creative... they're going to fund middle management.
The Small Freelancer
On the flip side of the spectrum, you can also hire a freelancer who specializes in a particular skill. Some of the better freelancers may even do a few things well. The problem there is how it's always been—finding talent is hard. Get someone who's good enough, you try hang onto them... until they quit and move on. Managing talent cam be a full-time job in itself, especially in a field as specialized as digital marketing.
And while some areas of marketing have gotten easier to do, this has lead some freelancers to think they can do it all. However, many things have gotten infinitely more complex at the same time. Jack of all-trades, master of none. After they get a portfolio together, they end up working for some other company for a steady paycheck. Or they go work or your competitor. Neither are in your best interest.
The happy medium
Ritter Knight sits between that "big" agency and small freelancer.
Big enough to serve but small enough to care, we can get you to that next level. Heck, maybe you'll outgrow us.
That's our goal, too.
Ritter Knight's teams are lean and mean, hungry and willing to do what it takes to help grow your brand.
When you hire us, you get access to a whole team of people, ready and willing to help explode your growth with none of the hassle that comes from a traditional advertising agency or having to manage a team of freelancers or hiring in-house.
Continuing to Excel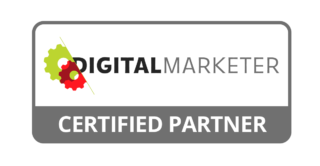 In addition to our own formal training and real-word experience, in order to stay on the cutting edge of our trade, members of our team are always completing advanced digital marketing certification courses from DigitalMarketer, HubSpot, Facebook, and other entities to attain a further level of competence appropriate for professional practice.
As a DigitalMarketer Certified Partner agency, we share DigitalMarketer's mission in helping to double the size of 10,000 businesses by 2020. (Will one of those be your company?)
With over 400,000 subscribers from across the globe, brands and businesses, both large and small, rely on DigitalMarketer to stay on the leading edge of what's actually working in modern marketing and business growth.

Let's help you remove the hassle of implementation and get a digital marketing system going in your company.
Give us your design problems
We are a group of big picture thinkers with attention to detail.
Good design doesn't just make you look good, it changes people's behavior. In fact, those changes might even ruffle a few feathers at your organization. Change is good—when it's executed properly. Change for the sake of change is just busy work.

If you're looking for a design/marketing agency that does exactly what you tell them to do, you may not like working with us. That's not design, it's execution. (Yes there is a difference.)
If you're looking for a cheap or quick fix, we'd recommend Squarespace.
But if you want real solutions, backed by experience, analytics, and business savvy, you want us on your side.
Let's solve real problems together and ask the tough questions. Like an investigative journalist and football coach all rolled into one, we dig in deep to help you figure out the high percentage plays that are going to work for you.
Websites are a marketing problem
That's pretty, obvious right? Yet, when it's time to "fix" the website, the Bat-Signal often goes out to the folks running IT.
Other technology-focused companies are keen to sell you a bunch of templates and some sort of content management system all bundled up neatly with phone service and e-mail.
However, your website is not an IT problem, it's an always-on, 24/7 marketing solution that just happens to relate to technology. We're here to bridge that gap.
Today's websites require more
These days, almost anyone can point, click, and "design" their way to a simple website in 5 minutes. If you just want a website, GoDadddy and SquareSpace can give you one easily enough.
But creating an optimal, engaging website experience—on any device—that converts visitors into users, or helps you publish effectively is much more challenging.
Today, every word, every image, every bit, every packet... matters.
Start marketing like it's 2018!
Helping you craft the best website on the planet is only just the first step. These days, you need to create the path your visitors use to get to you, too. Let's create a plan of action to help you do that. And then, execute awesome design around that plan.
Because design without a plan is just artwork.
Let's be awesome, together
From sales tools to online portals and intranets, e-commerce, e-mail marketing, photography and video, we can help with all online and offline marketing.
Brains & Beauty
Many companies are strong in either development (coming from IT) or graphic design (coming from traditional print), but not both. Today's websites need to be robustly programmed, optimized for search engines, and look beautiful. We don't compromise one for the sake of another.
From complex e-commerce development to mobile to apps, we'll help you build it beautifully and securely.
A side of ROI
Your business probably exists to make money. So rest assured when we take on any job, we're dead serious about doing the best job that gets you results. You're entrusting your business' reputation—and brand—on your website agency's ability to deliver on their promises.
Clients like you are starting to realize that cheap, or crowd sourced design is not really in their best long-term interests. Building a long-lasting relationships is really what separates the "insanely great" designers with the mediocre ones.

We hope to bring you a nice return on investment with Ritter Knight Creative—emotionally and financially because when you succeed, we succeed vicariously because we know you'll keep coming back.
You can't do this alone... and neither can we.